Elder Advisors to Research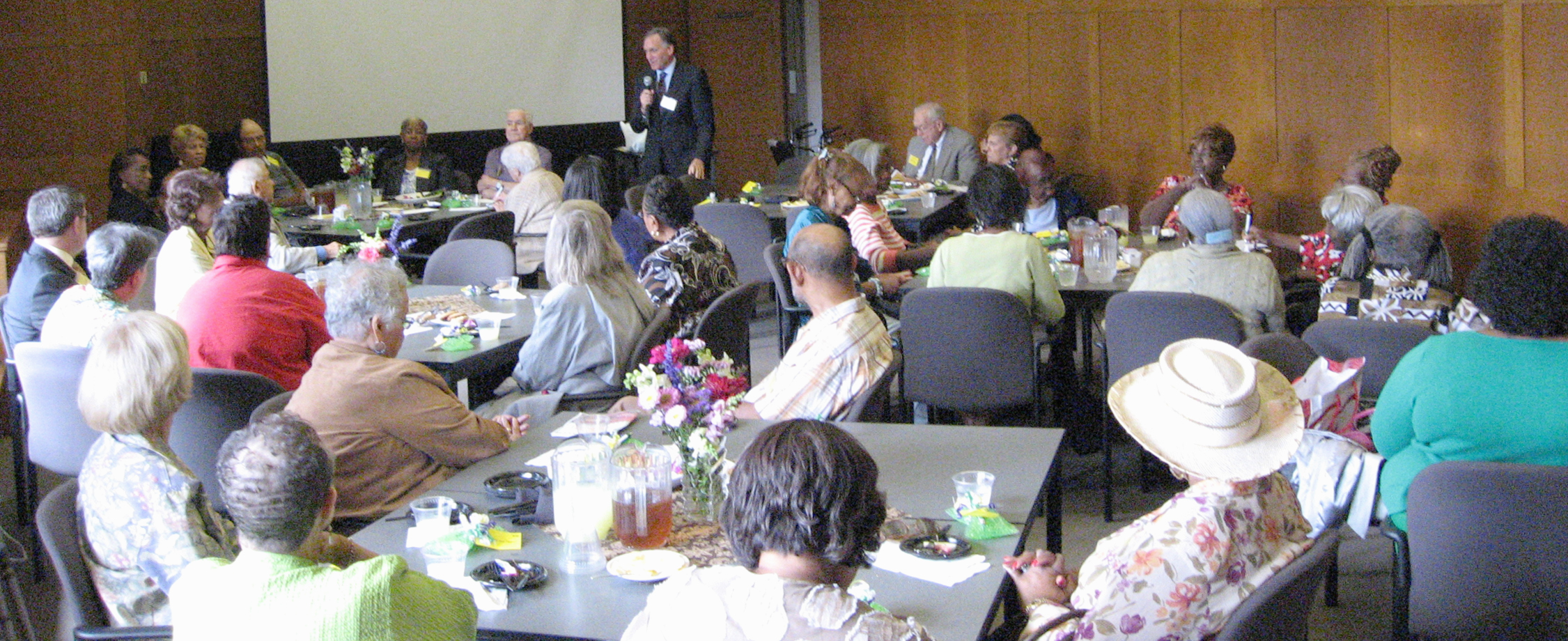 The Elder Advisors to Research (EAR) is an innovative, active group of older adults who plan and execute the Art of Aging Successfully Conference, hosted by the IOG, each year. They also give feedback to the IOG on issues affecting older adults in the Detroit area that helps in developing relevant outreach and research programs. Most members are over age 60, retired or semi-retired, with a deep interest in improving the well-being of older adults. Members can volunteer or be invited to join the EAR by the IOG director, faculty or other EAR members.
---

Elder Advisors to Research (EAR)
Pat Baldwin
Cheryl Deep is the media Relations and Publications Manager for both the Institute of Gerontology and the Merrill Palmer Skillman Institute for Child & Family Development.

Carol Edwards joined the Institute of Gerontology Board of Visitors in 2011, and began volunteering for the IOG in 2012.  She received a Bachelor of Business Administration degree from Walsh College. Retired from the Oakland County Intermediate School District, where her position included interacting with local school districts, and working with non-profit and for-profit organizations in the community. She enjoys interacting with people, and serving on the EAR gives her the opportunity to be involved in encouraging seniors to stay active, keep positive, and continue learning.
Amy W. Jackson is the mother of three, grandmother of three and great grandmother of three.  She is otherwise known as "Ami" (the TV & Decca recording singer/pianist/ harpist), "Ami D" (the Storyteller) and Amy, the Co-Facilitator of the Michigan Parkinson Foundation's Detroit Support Group.  Amy has been an active member of the EAR for many years.

Dorothy Jackson
Barbara Kopasz
Donna MacDonald (Chair) began working at the Institute of Gerontology in May of 2006. Currently she is the Director of Community Outreach and Professional Development  for the Institute. Donna provides direction for the Art of Aging Conference, Issues in Aging Conference, and the hundreds of CE programs provided each year for IOG sponsors.
Gloria McEwen
Susan McEwan
Gloria Myers
Gloria Sniderman was an educator and librarian at Wayne State University for 29 years.  Before that, she was a school librarian and a special librarian in industry.  Gloria feels that the IOG, through the Elder Advisors to Research, brings forth information to many seniors who otherwise might not learn about elder issues. 
Deborah L. Vinson is a native Detroiter recently retired from the Federal Reserve Bank of Chicago after a 30+ year career in banking operations, audit, supervision and regulation. A graduate of Siena Heights University in Adrian, Michigan, she is an avid crafter who loves sunshine, smiles and making good things happen, especially to older adults.
Doug Whitaker
---