Continuing Education Conferences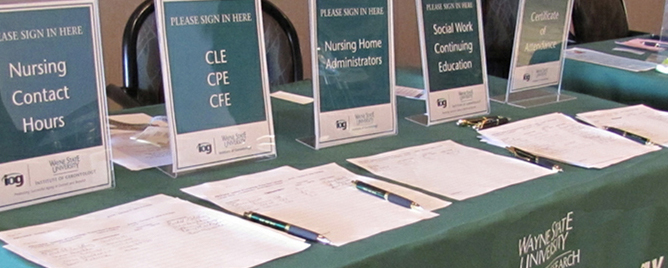 Current Calendar & Registration
The Institute of Gerontology is proud to bring continuing education to our community's professionals and partners.  For more information on one of the following programs or to discuss a personalized program please contact Donna MacDonald at IOG Outreach and Engagement at donnamacdonald@wayne.edu or 313-664-2600.
---
Collaborative Conferences (1-3 CEs)
We continually create continuing education credit workshops to address current issues impacting professionals who work with older adults. Often we can offer these free to professionals due to sponsorships from our partner organizations. Topics have included:
Pain Management
Transition through the Stages of Dementia
Intersex, Transgender, Bisexual, Lesbian and Gay Issues in Aging
It's Not about the Stuff: Harm Reduction for Hoarding
Medical Marijuana
---
Signature IOG Conferences (5-12 CEs)
Issues in Aging Conference
The IOG's longest running continuing education conference, this 2-day program is designed for health care professionals, service providers, administrators and researchers working with older adults.
A Meaningful Life with Alzheimer's
Created in collaboration with the Alzheimer's Association Greater Michigan Chapter. A conference that brings together health professionals and caregivers to understand a person-centered approach to caring for those living with Alzheimer's.